The summer heat is on…
and here's a real COOL promo for you guys!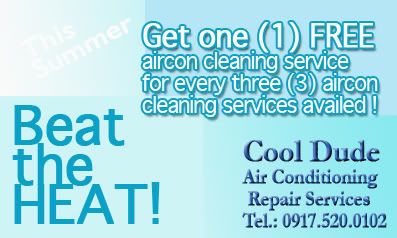 Get one (1) FREE aircon* cleaning service for every three (3) aircon cleaning services availed at COOL DUDE!
Why choose Cool Dude aircon (a/c) cleaning service?
free freon status check-up
free compressor status check-up
a/c cleaning solution is used and NOT soap or alternative cleaning agent, which can damage a/c components
TLC handling
thorough cleaning
honest diagnostics
expert scientific advice
*Promo applicable to window type units only.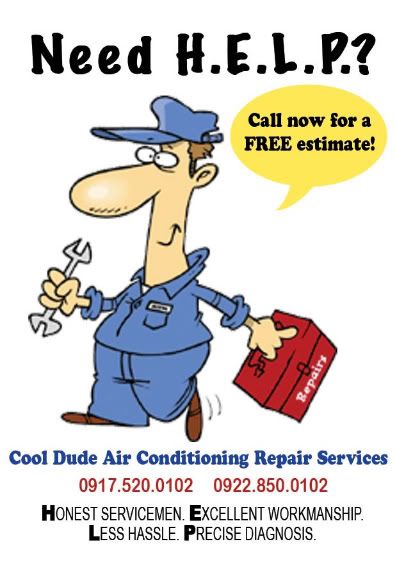 Cost of cleaning of each a/c unit is P400.
Promo: SAVE P400!  Pay P1,200 only for cleaning four (4) a/c units (until June 30, 2009)
Text: 0917.520.0102 or 0922.850.0102 and mention: hitabargain to avail of the promo price.
Save on electricity bills by having clean air-conditioning units!
Save on energy!   Save the earth!
---
On a scale of 1 to 5, how would you rate this offer? Does it Hit A Bargain?
1 – a bogus offer! not a bargain at all!
2 – common offer…not exciting.
3 – a tickling offer to think about.
4 – hard-to-resist offer.
5 – no need to think! offer has Hit A Bargain!!!
Please leave a comment below. Thank you.