Coolest Summer bargains multiply this month of May! Just like most establishments, this weekend, HMR Philippines has an on-going summer sale until May 16, 2009 with discounts of up to 70% off!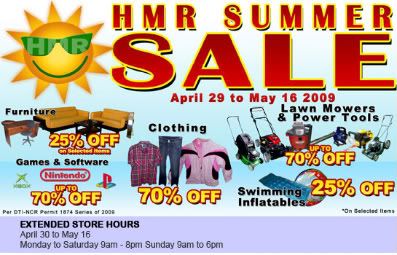 HMR Philipines surplus depot carries a wide variety of novelty items, toys, electronics, computers, home and office furniture, garden tools, games and softwares, clothing and apparel, etc.  HMR is also known for cheap restaurant and office equipment, spare parts, pallet racks, gondolas and other industrial products.
One can find surplus items here at a fraction of the cost as compared to the regular retail tag price.  Don't expect though, to have the ideal shopping experience you get from high-end, posh malls.  It's a warehouse store (no airconditioning) with no-frills type of set up.
HMR has outlets in Mandaluyong – Tel No.: (632)634-0526; Sta. Rosa – Tel. No.: (632)5208618-19; and Cebu City – Tel. No.: (6332)254-6587.