Delight your mom this coming Mother's Day with a bouquet of fresh long-stemmed roses FREE from Island Rose!

Three (3) lucky winners may choose from any of the lovely bouquet of roses presented here :
NOBLESSE.  This graceful salmon pink rose variety looks astounding in a vase or as a bouquet. Let these lovely pink flowers show your warm feelings. Will definitely put a smile to anyone's face!
COOL WATER.  Enchanting and elegant best describe these lavender roses. This rare flower variety is especially bred for designer brand Davidoff and exclusively grown by selected farms around the world.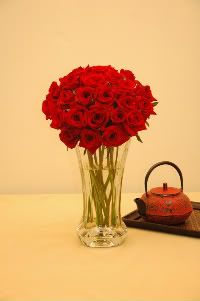 GRAND GALA. This deep burgundy flower variety has large blooms and long thornless stems. A popular choice among people with a large passion for life. Use these flowers to show your deepest affection!
I'm sure you guys are eager to know how to win the FREE bouquet of long-stemmed roses from Island Rose (already inclusive of delivery, anywhere in the Philippines).  Here's how:  just write (in the comment section below) about your most memorable and touching experience with your mom  and you could be one of the three lucky winners! The three most inspiring and heartfelt story will be chosen and announced on May 10 (has been extended to May 31, 2009, with 1 more remaining bouquet up for grabs).  Please refer below for the Bouquet of Roses freebie promo mechanics:
Participant must be a fan member of HIT A BARGAIN! on Facebook.
Subscribe to HIT A BARGAIN! via email (click subscribe button on top of the page).  Please use same email address that you'll register when writing your most memorable experience with your mom in the comment section below.
Each participant may submit multiple entries, but may only win once.
Free Island Rose bouquet of roses may be claimed by lucky winners until June 30, 2009.
GOOD LUCK and ADVANCE HAPPY MOTHER'S DAY!!!