Now that class opening of most schools has been postponed in Metro Manila (due to expected heavy rains), it's not too late to share these various treats & discounts for students: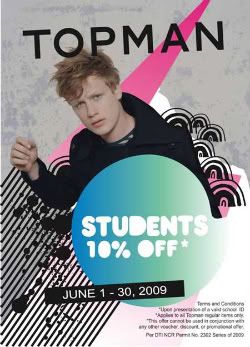 Topshop & Topman are giving students 10% off on ALL regular price items.
All you have to do is present your valid school ID.
This runs from June 1 – 30, 2009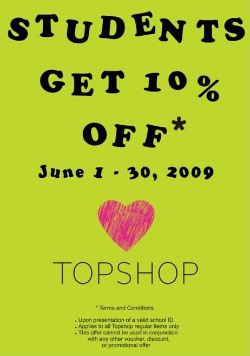 Meanwhile, Manels' is giving a 30% discount on ALL their black shoes (perfect for students again!).  The sale runs from June 1 – 15, 2009.
And the good news to those of us who aren't students anymore, but are dying to buy another killer black pump or sexy sandals, you don't have to be a student to avail of this.  ALL black shoes are on discount for everyone.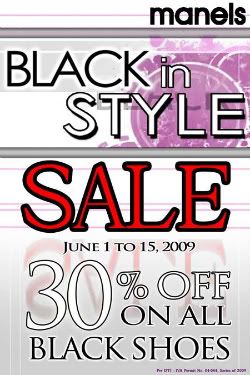 Levi's jeans is now more comfortably wearable with the discount of up to 50% (until supply lasts)…perfect for college students that don't have to follow any dress code or uniform.  There are also cool shirts on sale to go along with the jeans.
What else can you ask for a pair of sandals and pumps (white colored shoes for the medical and nursing students) selling for as low as P99!  Rusty Lopez & Centropelle shoes are on sale up to 80% off (while supplies last) at "Best Sole" in Cubao X (formerly Marikina Shoe Expo).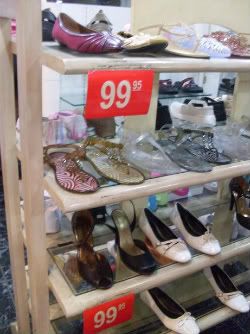 There are also Rusty Lopez bags (ideal for students) on sale.  But, hurry, styles and sizes are limited and they run out fast.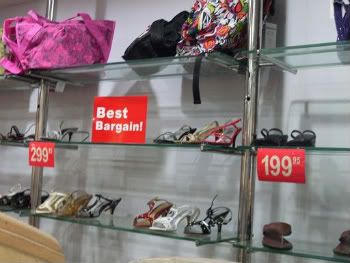 Congratulations to Mirasol Padillo (who contributed most of  featured sales above) and also to  Ericsson Veloso for sharing theses sale events.  You both won a FREE massage at No. 5 Body & Foot Spa!  Thank you. 😉