We know the weather has been hot and cold lately. But this mentholated scalp treatment from Gruppo Barbero comes highly recommended no matter what the weather is.  Formulated not only to cool your scalp, it relieves itchiness caused by dandruff as well.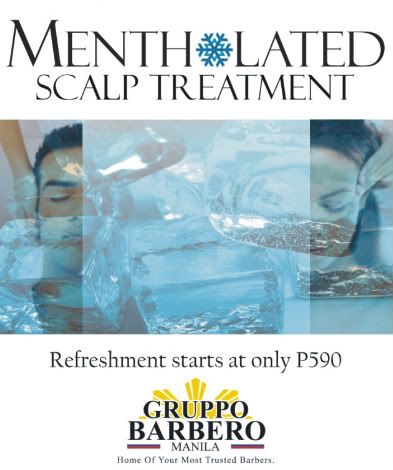 Exclusive to Hit A Bargain! Facebook members. Click on Facebook logo (right side column of this page) and create an account if you don't have one yet (it only takes a few seconds). Then, search for Hit A Bargain! and click on "Become a Member".
The Gruppo Barbero's mentholated scalp treatment worth P590 can be yours for FREE!
Here's how to avail:
A.  Just share (by leaving a comment below) about "why your dad is great".
B.  Please answer the following questions and email to hitabargain@gmail.com.  Best informative ten (10) complete answers will be awarded the gift certificates absolutely FREE!  No purchase required!
1) Why or why don't you go to a barbershop over salons?
2) What important factor do you consider in choosing a barbershop?
3) What will make you try Gruppo Barbero?
That's it folks! It's very simple, so leave a comment below and email your answers now
Deadline of submission is on October 30, 2009.
Gruppo Barbero has outlets in Adriatico, Manila (tel. no.: 525.4024), Banawe, Quezon City (tel. no.: 711.9286), Tomas Morato, Quezon City (tel. no.: 924.0694), Blue Wave Mall, Marikina (tel. no.: 473.1170) and Pasong Tamo Extension, Makati (tel. no.: 379.1044).