Om shanti.

Experience silence and connect with your inner peace.

BK Jayanti's "The SILENCE Of The MIND", a free program sponsored by Brahma Kumaris, an international NGO which believes in the intrinsic spirituality and goodness of every human being, will be held on September 3, 2009 at 7pm to 9pm, Rizal Ballroom of Shangri-la Hotel Makati. The program is about practical experiments with soul power & personal experiences of divine protection.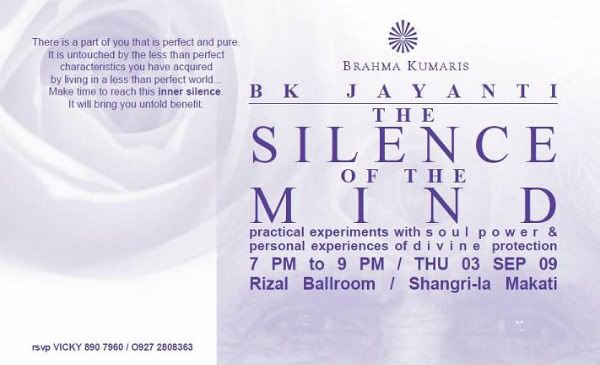 For seats reservation, please contact Karen Ann Navarro at (0915)5391947 or email at karen_ann_navarro@yahoo.com or contact Vicky at 890.7960 or (0927)2808363 on or before August 31, 2009.
BK JAYANTI
European Director of Brahma Kumaris World
Spiritual University (BKWSU) and NGO
Representative to the United Nations, Geneva
For over 40 years, Sister Jayanti has been an emissary for peace. She has a vision and experience that is truly global and deeply spiritual. Sister Jayanti has a unique ability to impart the deepest spiritual truths with the utmost clarity. Her prominent lecture themes have included health, education, racial harmony, women's needs, religions of the world, sustainability, peace and international relations, all of which have generated a lot of media interest.
Her travels as a keenly sought after speaker and broadcaster have taken her into well over 100 countries. She helped establish the work of the University in London, Hong Kong, the Caribbean, Japan, South Africa and several European countries and continues to provide spiritual support to Centres all over the world.
In 1980 she was appointed the University's main representative to the UN in Geneva. She has participated in many UN Conferences and projects in connection with Women, Development, the Environment, Youth and a major international project for the United Nations International Year of Peace.
Sister Jayanti was an Advisor to the Council for a Parliament of the World's Religions, Chicago and gave a major presentation at the Parliament itself. She is also a member of Executive Committee of the World Congress of Faiths and is a member of the Advisory Body of the International Interfaith Centre. She also served on the World Congress of Faiths International Committee from 1988 to 1993, which planned the contribution of the World Congress of Faiths to 1993 – A Year of Interreligious Understanding and Co-operation.
With the recent explosion of interest in the sustainability of planet earth, Sister Jayanti has been involved in the topic for 15 years. The dimension of spirituality and the environment has been of personal interest and exploration for Sister Jayanti. In particular, the aspect of respect for all forms of life.
As the BK NGO representative to the United Nations in Geneva, Sister Jayanti participated in the Geneva preparatory meetings at the UN leading up to the Rio Earth Summit in 1992 where she assisted in the creation of the Earth Charter. Even now, there is ongoing interest in the application of the principles outlined in this Charter.
PUBLICATIONS
Books
BK Jayanti, God's Healing Power, Michael Joseph/Penguin (London: 2002)
BK Jayanti, Practical Meditation, HCI (Florida: 2000)
BK Jayanti, The Art of Thinking, BKIS (London: 2000)
BK Jayanti, Dreams and Reality, BKIS (London: 2000)
Sister Jayanti and Mike George, Meditation for Extremely Busy People, BKIS (London: 2000)
BK Jayanti, Relaxing the Mind (audio tape and CD), BKIS (London: 2000)
BK Jayanti, Moments of Peace (video), Presence Image et Son (France)
BK Jayanti, Relationships between Genders: An Alternative Perspective (publication pending, the Netherlands: 2004)