In the restaurant business, gaining customer loyalty is something aspired by many but achieved by only a few. Food quality, ambiance and service are frequently harped on but rarely do you get all three in one conveniently located place.
Just recently, I was invited to Outback Libis for some food and drinks.  Since I was not familiar with their food offerings and running a bit late, I told my friend to order for me. Upon arrival, I found the atmosphere in Outback to be homey and laid back. Definitely my kind of place where I can just come in any attire and be able to relax in their cozy wooden interiors.
I was famished and within a few minutes of my arrival I was served with their complimentary fresh brown bread and ice-cold beer. Their homemade bread tasted really good but I had to control myself for the main meal followed shortly thereafter.
My friend ordered just two dishes: Shrimp Linguini in Basil and Cream Sauce and Crispy Shrimp Caesar Salad. The presentation alone made me salivate (or maybe it was just my hunger)!
Since I was already so hungry, I devoured the pasta dish first. I noticed that it had generous servings of perfectly cooked shrimp and their cream sauce had just the right amount of thickness.  It was perfect!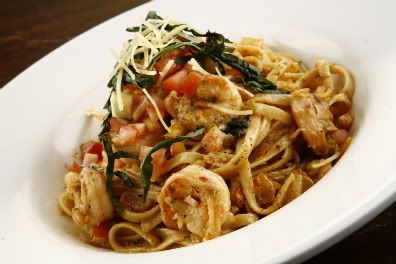 I then moved on to the caesar salad. Outback's crispy shrimp caesar salad is uniquely presented unlike your usual tossed greens. The caesar dressing and balsamic vinegar was placed on top of fresh romaine heart boats. The romaine lettuce was fresh and crunchy but not soggy. The refreshing caesar salad compliments the crispy baby rock shrimps tossed in asian chili sauce. It was actually a meal in itself already, which is ideal for the health conscious.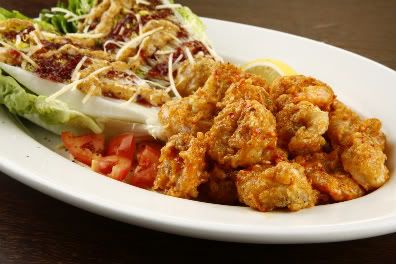 It was the type of meal that feels good afterwards giving credence to Outback's promise that they use only the freshest and highest quality ingredients possible.  And what's more, all their meals are done from scratch! There are still a lot of dishes in their menu that I would like to try and so that's exactly what I did on my next visit.
This time I ordered the beef tenderloin steak tower and mango BBQ ribs, which are part of their Limited Time Only (LTO) menu wherein food offerings are discounted up to 30% off (if you present the Outback privilege card which was given to me by Outback's very friendly manager on my first visit)!
The beef tenderloin steak tower is served with two slices of seasoned and seared imported beef tenderloin, perfectly stacked with homemade risotto cake, grilled fresh mushrooms, garlic mashed potatoes and rosemary. Served on a bed of Marsala demiglace with imported potato wedges and stir fried julienne vegetables, this dish will no doubt delight the meat lover. Request that it be cooked medium for you to appreciate this tender meat imported from Canada, no less.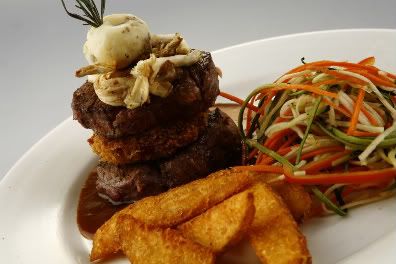 When you read the menu, the mango BBQ ribs is described as follows: Savory, fall off the bone baby back ribs, smoked and glazed with homemade mango BBQ sauce. Served with hand cut coco-onion rings, potato wedges and steamed fresh brocolli. All I can say is they are not kidding! I really enjoyed the ribs right down to the bone! Flavor was consistent all throughout thanks to their smoking and glazing process. Moist and flavorful with a hint mango, these ribs are just divine.
Thumbs up to Outback for a great quality meal, homestyle laid-back ambiance and fantastic service! I will definitely come home again!
Exclusive to Hit A Bargain! Facebook members,  Outback Steakhouse is giving away ten (10) gift cheques worth P1,000 each!!!
Simply share the Outback Steakhouse promo! The top 10 with the most number of shares/exposures through various forms of media (e.g., blogs, forums, social sites, email, etc.) win!
Make sure to send / submit to Hit A Bargain! (via email: hitabargain@gmail.com) the different sites' page/s' "url" where you shared Outback Steakhouse promo.  Deadline of submission is on November 15, 2009.  The top ten (10) winners will be announced on November 30, 2009.
Please click here to see the list of winners for this FREEBIE promo!
You may also share this promo by clicking the "Share This" button below at the end of this post, to at least 20 friends (more is better!) and copy furnish hitabargain@gmail.com.
FREE Outback Privilege Cards await the lucky winners, too!  So, start sharing now!