Depending on whom you speak to, listening to stories about Boracay might sound contradictory.  There are those that enjoy what the nightlife brings meaning loud music, drinks and lots of new people to meet.  On the other hand, there are those that prefer to be isolated in a quiet part of the island to relax and just sit back and enjoy looking at the horizon with their loved ones.  Just like magic, Boracay can be all of those and this is what makes this enchanting island so exciting to many.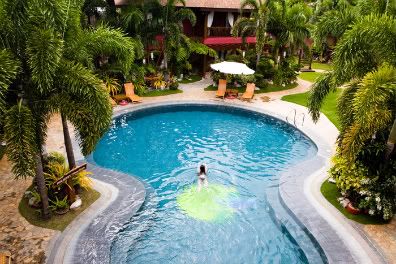 With the many airline deals sprouting here and there, going on a Boracay dream vacation is now more affordable.  Thankfully, some hotels and resorts are getting into the act as well.  At Best Western Boracay Tropics, you can book a room for 2 people for only P2,400 per night*!  Check out the photos of this resort and you will see that this is a great deal compared to others out there.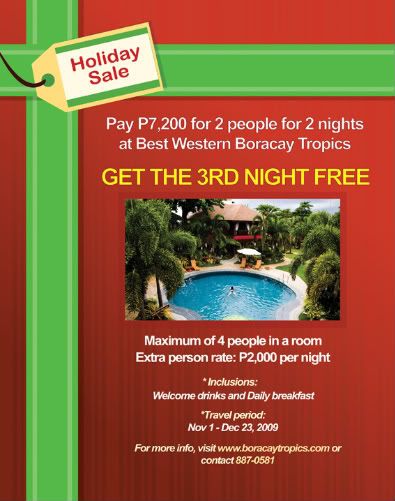 *The package price of P7,200 for 2 people for 3 nights includes welcome drink and daily breakfast. Promo price can be availed from Nov 1 to Dec 23, 2009. Check out: www.boracaytropics.com or contact 887.0581 for more info.
As an advanced Christmas gift to loyal Hit A Bargain! followers, we are giving away for FREE one (1) gift voucher for 3 days and 2 nights at Best Western Boracay Tropics Deluxe Room!!!
Best Western Boracay Tropics' Deluxe Room is a great choice for a mid-range suite.  Their Deluxe Room is furnished with 2 queen-sized beds, but this doesn't mean moving space is compromised. Rest assured that your comfort is just as important to us as maximizing the room space.
Equipped with basic amenities, such as, a functional toilet and bath, a cable-ready TV, and a mini bar, the Deluxe Room is like a home away from home.
Take a break from the hustle and bustle of the city and treat yourself to a relaxing tropical getaway at Best Western Boracay Tropics Resort Hotel.
Exclusive to Hit A Bargain! Facebook Fans (to sign up, just click on the Facebook logo on the right-hand side column of this page), you get a chance to win a FREE  3days/2nights stay at Best Western Boracay Tropics, by doing the simple steps below:
Answer the questions below and email your reply to hitabargain@gmail.com.
What can you say about

Hit A Bargain!

site? Comments and suggestions are welcome.

How can you help us spread the word about

Hit A Bargain!

site?


Tell us why we should choose you to win the Best Western Boracay Tropics  FREE 3 Days / 2 nights gift voucher
Share this freebie promo via email to at least 20 of your friends

(click the "Share This" button below at the end of this page and choose your email host or Facebook to send this promo to your friends)

. Make sure to copy furnish: hitabargain@gmail.com.

Deadline of submission is extended to January 15, 2010.

Please CLICK HERE to see winner of 3days/2nights voucher of Boracay Tropics.