We would like to congratulate the 10 winners (refer to list below

)

of

FREE P1,000 Gift Chequ

e

from

Outback Steakhouse!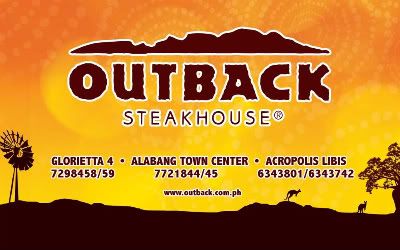 1.  MAY ANN SATURNO of Datamed Solutions International.
2.  RUTH A. DELA CRUZ of IBM Business Services.
3.  MONA LIZA T. VERDIDA of Tahanan Village, Paranaque.
4.  OMAR ITAY of Cainta, Rizal.
5.  MAUREEN MIRAVATE of Philam, Quezon City.
6.  RAMIN VILLORIA of AFCMI
7.  JOESALYN RELATIVO of Kakikayan Shop
8.  ELNA ESCALANTE  of LEAL of Integrated Computer Systems
9.  LEVY C. MARTINEZ  of Cantina 1524
10.  JUDELL CRUZ of Quezon City
An email notification will be sent to the winners. Thank you to all who participated in this promo!