The perfect vacation away from home just got closer.  For a relaxing, and inexpensive travel, Subic bay is the place to go especially via the Subic-Clark-Tarlac Expressway (SCTEX).  The scenic paved ultra majestic highway was built to serve as the main vain of the Manila-Subic connection.
In Subic, there is only one beacon of luxury vacations and that is, the Lighthouse Marina Resort.
The Lighthouse Marina Resort boasts of 34 rooms with 42″ colored LCD TVs mounted on the wall with a separate DVD player, a fully-stocked refrigerator and mini bar, ultra comfort mattresses with lush pillows and fabrics, individually controlled air-conditioning, coffee and tea making facilities, in-room personal safe, internet access, and a stunning bay view for the Aqua Verandas, while a breathtaking mountain view for the Aqua Terraces. The piece de resistance though, would be the glass walled bathroom with a freestanding tub, reminiscent of old world bathrooms.
If that's not enough, the hotel offers a sunset cruise with a private serenade, a speed boat ride to an island along the coast of Zambales for a barbeque, a picnic in a secluded waterfalls in Subic's rainforest, or a butler-assisted candle-lit dinner in your own private veranda.  For more info, check out: http://www.lighthousesubic.com/main.php
Now stop dreaming because the Lighthouse Marina Resort is giving away a luxiry pamper package worth Php50,000 for FREE!!!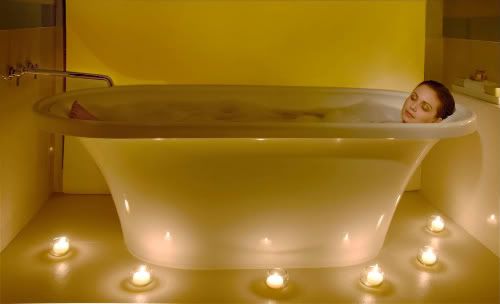 To get a chance to win this fabulous freebie, just follow the simple rules below.  Good luck!
Game Mechanics:
1. Write a blog why you want to go to the Lighthouse Resort Hotel (based on what you have experienced, heard from friends or read/seen from good reviews) in a related forum, social site or your own blog, etc.
2. Please give us your definition of the best luxurious out-of-town resort hotel experience. What do you think is the best feature of a resort hotel that makes a vacation very luxurious, and why?
*Please email your blog entry's url link and answer to No.2 at hitabargain.lighthouse@gmail.com together with the following (please copy & paste) form and certification below:
Full Name
Age
Birthday
Male or Female
Single/Married #kids/age
Address
Contact Numbers (Home/Mobile)
Occupation
Company
Email
I have read and fully understood the contest mechanics. I certify that I am the original composer of the submitted blog. Furthermore, I give consent and allow The Lighthouse Marina Resort the right to reproduce, exhibit, publish, or use any of my compositions or photographs for promotion or publication purposes without remuneration of any kind, provided due acknowledgment is given.
You may submit as many entries as you want to increase chance of winning. Lighthouse shall have rights to post the blogs without notice to the writer. But of course, the corresponding authors will be acknowledged at all times.
Who May Enter:
The contest is open to all 18 years and above.
Should be a Fan of The Lighthouse Marina Resort and Hit A Bargain! in Facebook (click here).
Contest Duration:
All entries must be received by February 15, 2010, 12:00AM Philippine Time.
Entry Requirements:
There is no limit in the number of entries that may be submitted. Entries must comply with all  Entry Requirements as follows:
* The composition, in its entirety, must be single work of original material made by the contest entrant. By entering the Contest, entrant represents, acknowledges and warrants that the submitted material is an original work created solely by the entrant and that no other party has any right, title, claim or interest in the submitted material; nor does the entry material substantially take form or imitate the work of someone else.
* Obscene, provocative, or otherwise objectionable content will not be considered.
* Any material that has been published or sold commercially (whether directly or via an agency intermediary) is not eligible.
How to Enter:
To send entries, email the completed entry form together with the link and certification to hitabargain.lighthouse@gmail.com. Entries must be received (via email) on or before February 15, 2010. Entrants of the contest shall allow The Lighthouse Marina Resort the right to reproduce, exhibit, publish, or use any of their compositions or photographs for promotion or publication purposes without remuneration of any kind, provided due acknowledgment is given.
Judging:
Entries will be evaluated based on the following criteria weighted as follows:
Relevance to the theme 35%
Creativity and Composition 35%
Technical Writing 30%
One (1) Grand Prize winner will be chosen. The winner will receive the ff:
Win a luxury pamper package for two at The Lighthouse Marina Resort!
Inclusions:
3 days 2 nights stay at an Aqua Spa Suite
Sumptuous Breakfast and Dinner for two
2-Hour Sunset Cruise in Subic Bay
Unlimited DVD Movie Access
Unlimited Internet Wi-Fi Access
Vacation Packaged valued at P50,000.00
BONUS!!! Get a complimentary massage for two (2) if you send a photo of you holding a Northbound Magazine.
Other related expenses are the responsibility of the prizewinner. Prizes are not transferable and may not be substituted or redeemed for cash. Prizes can be claimed at the Lighthouse Marina Resort, within sixty (60) days from receipt of notification. Winners must present a valid I.D.
Notification: Winners will be notified through phone, email or registered mail by March 30, 2010.
Please CLICK HERE to see winners of LIGHTHOUSE Marina Resort freebie promo.