We're proud to announce the FREE Boracay Tropics (3days/2nights stay) winner!!!
Congratulations to CJ RIVERA from the radio show "The Big Meal" of Magic 89.9 !  Please see his winning entry below: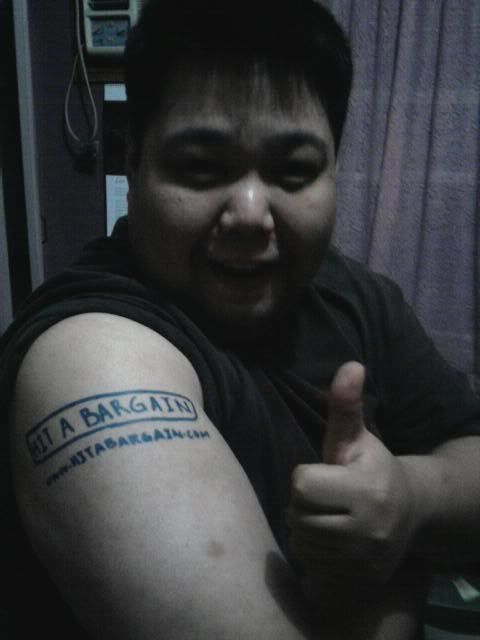 My name is CJ Rivera. Better known to the rest of metro manila as CJ the DJ. I run a daily on-air show called "the big meal" on magic 89.9 with my co host Suzy. My writing to you all started because I came across your promo through a friend. I told him that I did not believe in on-line promos and that it was bogus. He, insisted that I try. So here I am trying.
1. What can you say about Hit A Bargain! site? Comments and suggestions are welcome.
I checked out your site, and it looks promising. A lot of great deals found in it. Most of them too good to be true. Again, pardon my skepticism but im here trying to prove myself wrong, and maybe even win a prize for it. All in all I think its a unique idea for a website, and that if all the promo's are non bogus, then I would say it rocks!
2.  How can you help us spread the word about Hit A Bargain! site?
Here's the deal. I work for one of the top FM stations in metro manila. I know that most people would blog about the site and help push it, but me, i'd rather use my medium as an unfair advantage over the others trying to win the prize. My apologies to those who are about to loose. Ha ha ha! Ok, on December 29 and 30, myself and Suzy first touched on the topic of online promos being bogus on air. And made a promise to the listeners that if we do win this promo, we would give the prize away to one lucky listener. I mean I would not mind flying to boracay and enjoying the winnings all to myself, but hey, I am only out to prove if only promos are really legit. So, we have been consistently mentioning the promo that we are trying to win and along with it hitabargain.com. I have a recording of the conversation on CD and will hand it to you if you think it is necessary. Better than blogging?? Hell yeah. We command a pretty high number when it comes to audience, and it gets to people more. Besides the on air conversations that we do about the site, I also decided to share the link on my FB and twitter account. Which I would say has a fair amount of friends and followers. And to put a nail on the coffin and erase all of your doubts that I should win this contest, I am going to ask Suzy to write in permanent marker www.hitabargain.com on one of my arms a day before the deadline and post it on our facebook accounts.
3.  Tell us why we should choose you to win the Best Western Boracay Tropics  FREE 3 Days / 2 nights gift voucher.
Now if that's not dedication enough, I don't know what is. And I seriously hope for your sake that this promo is legit. Because, if it's not after all the push that we have done, I also made a promise to my listeners that your website would be part of my on-air hit list of "listeners beware". Ha ha ha! Cheers!
Please click on the link: http://www.cjandsuzy.com/ where Hit A Bargain! promotion banner link is posted.