If you've bought high quality roses in the Philippines, chances are you've come across Island Rose!
www.islandrose.net is the official e-commerce site of the Philippine Cut Flower Corporation (PCFC) – the largest supplier of roses in the country. In the year 2000, www.islandrose.net sparked a revolution in the Philippine flower industry and e-commerce retailing by introducing the Philippine's first nationwide flower delivery service on the internet.
Our Farm
We use the most advanced greenhouse structures in the country to make sure that you get only the best flowers. Within our greenhouses, climate and nutrition intake is controlled using state of the art computer and irrigation systems. This relentless pursuit for excellence is what separates our company from the rest.
More importantly, we maintain a first class quality control and customer relations department employing best practices from all over the world. You can be confident that the quality of our products and services will always come first.
For more than 25 years, the Philippine Cut Flower Corporation's Island Rose brand name has established its reputation as a trusted source of internationally known European rose varieties. It regularly exports and continually supplies major local retailers, event coordinators, hotels and restaurants.
Classic Bouquets
Our international standard long stem (45-50 cm) roses are a classic among rose enthusiasts worldwide. All our flowers are imported from Europe and grown in our farm in the Philippines. Flower bouquets are delivered in bud stage beautifully bunched and wrapped in Island Rose packaging with a personalized greeting card. Perfect for any occasion!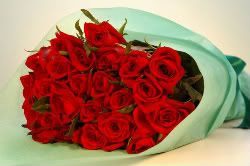 GRAND GALA
This deep burgundy flower variety has large blooms and long thornless stems. A popular choice among people with a large passion for life. Use these flowers to show your deepest affection!
GLORIA
This angelic rose variety has extra long stem and a pure white color that is unmatched in prestige and charm. In the world of flowers, this rose stands as one of the most colorful.
CALIMA
A delicate and captivating combination of pink and cream petals adorn this flower. Its poise and composure will deliver your message crystal clear. Express your admiration with these light pink roses and let its beauty do the talking.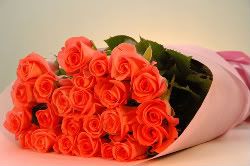 NOBLESSE
This graceful salmon pink rose variety looks astounding in a vase or as a bouquet. Let these lovely pink flowers show your warm feelings. Will definitely put a smile to anyone's face!
CHRISTINE
This extra long yellow flower variety has one of the best postures in our collection. Firm buds, long stems and a fresh yellow color fits perfectly in any vase. An extended vase life leaves an extra long impression.
SALSA
Unusually large blooms, a fresh scent and a rustic color separate this flower from the rest. If you are looking for something different, send a bunch of these roses and wait for their reaction!
Valentine's Day is not the only special occasion that calls for a beautiful bouquet of roses. What would spell love more clearly than a bouquet of long-stemmed roses?
Big thanks to ISLAND ROSE for making it so much easier to express your feelings with Ten (10) FREE Bouquets of a dozen roses of your choice (refer above) that they are giving away!
Exclusive to Hit A Bargain! Facebook members (click here to sign up), 10 winners will be chosen with the best answers to: "Why would you choose to give a bouquet of roses to express joy, romance, sympathy, passion, appreciation and love?" You may submit multiple entries (by leaving comment/s below with a working email address), but can only win once.
As part of the requirements in winning the ISLAND ROSE, you must share this freebie promo to at least 20 friends (more is better, of course!). Click the "Share This" button below at the end of this page and choose your email host or Facebook, etc. to send this promo to your friends. The more medium (forums, social networking sites, etc.) you use to share this promo, the bigger chances of winning! Make sure to copy furnish: hitabargain@gmail.com.
Deadline for submission of entries is on March 30, 2010. Ten (10) winners will be announced on April 15, 2010.
Good luck and advance Happy Valentine's Day!
Please click HERE to see the list of winners!!!