The Lighthouse Marina Resort promo was such a huge success that the Lighthouse Management took some time to review all the entries. The entries were so good that they had to pick 3 winners instead of just one! Yes, you read it right! We have 3 winners!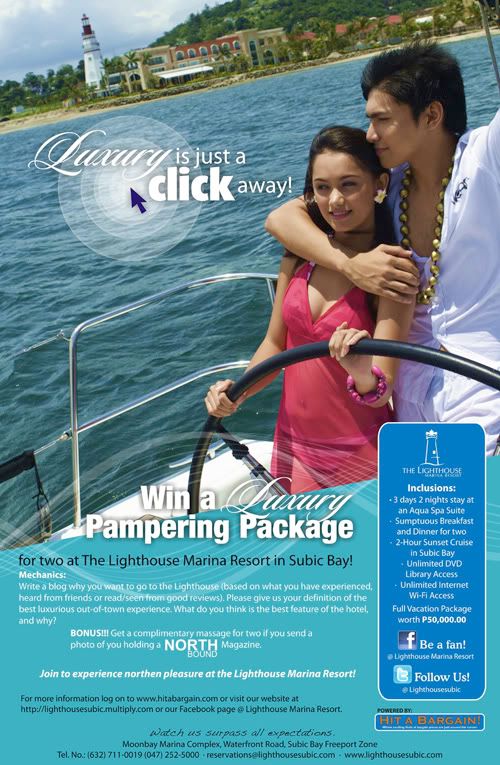 As promised, the lucky grand prize winner gets the following luxury pamper package:
– 3 days 2 nights stay at an Lighthouse Marina Resort Aqua Spa Suite
– Sumptuous Breakfast and Dinner for two
– 2-Hour Sunset Cruise in Subic Bay
– Unlimited DVD Movie Access
– Unlimited Internet Wi-Fi Access
Vacation Packaged valued at P50,000.00
The 2nd place winner gets:
– Complimentary Sunset Cruise with 50% discount room voucher*
Last but certainly not the least, 3rd place winner gets:
– Complimentary Dinner for two (2) worth P2000 at Sands Restaurant with 50% room voucher*
Without further ado, the Top 3 winners are (drum roll please…)
1) Vivian V. Aguilar (Grand Prize Winner)
http://vvaguilar.multiply.com/journal/item/25/Why_I_want_to_go_to_the_Lighthouse_Resort_Hotel
2) Jose Alejandro Vargas Montelibano (2nd Place Winner)
http://www.travelpod.com/travel-blog-entries/jomont/1/1264704164/tpod.html
3) Mirachael O. Turda (3rd Place Winner)
http://www.travelblog.org/Asia/Philippines/Subic/blog-467238.html
Congratulations to you guys! You truly deserve it!
* Terms & Conditions Apply
Note:  All winners will be informed via email.