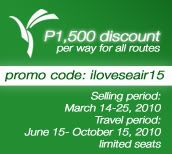 Enjoy P1,500 discount per way for all routes of SEAIR by using the promo code:  iloveseair15.
Selling period is from March 14 to 25, 2010 for travel period on June 15 to October 15, 2010. Limited seats only.
Southeast Asian Airlines (SEAIR), the Philippines' premiere leisure airline, announces irresistible lean season promos in celebration of its 15th anniversary this March 25, 2010.
Boracay one-way tickets can be purchased for as low as PhP 1,235 ++ per way and Batanes one-way tickets for as low as PhP 2835 ++ per way for travel from June 16- October 15, 2010. The selling period is up to May 15, 2010 but the promo is for limited seats, so interested holiday makers are advised to book early to get a better chance of availing the special rates.
SEAIR has been serving key tourist destinations since 1995, most notably Boracay, and has the longest history of uninterrupted service to Boracay direct via Caticlan. SEAIR also offers the most routes to and from Caticlan with flights from Caticlan to Manila , Clark and Cebu
SEAIR flies daily to the northernmost province of Batanes from June 16 and onwards. The province, often likened to the European countryside, has 4 seasons and experiences summer from June to August. During these months, weather on the islands is similar to summer in the best paradise destinations in the country. The scenery is characterized by pastoral landscape featuring rolling hills, windmills, and lighthouses guarding immaculate shorelines.
For inquiries and reservations call (632) 8490100 or book online at www.FlySeair.com. For packages call SEAIR Leisure Escape Packages at (632) 8437308.