Your Home of Feel-Good Food
Basilio's is a "2009 Philipine Tatler Best Restaurants" Awardee.
A steaming hot bowl of Seafood Chowder soup. Pure beef burgers on a freshly baked bun and fat, hand-cut fries. Macaroni with cheese baked just so it melts into a crusty, gooey goodness. Crispy, golden brown fried chicken eaten with the fingers and dunked in warm home-made gravy – delectable food with simple and straightforward flavors. This is precisely what "comfort food" is, the antithesis of "fusion" because it is simple. Familiar. Uncomplicated. Wholesome. Soothing.

Mac and Cheese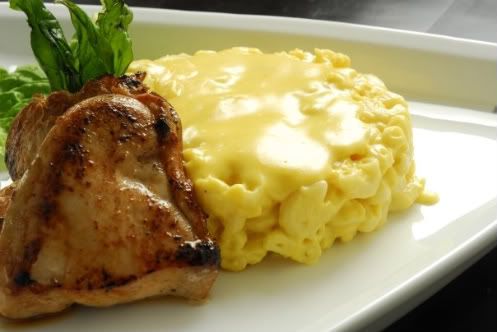 Macaroni with steaming cheese sauce served with grilled dry-cured chicken
At Basilio's, you will experience comfort food at it's best: rich, generous, unfussy and totally without pretense, prepared with no shortcuts and no scrimping on ingredients.  And, never mind the calories.
Spanish Adobo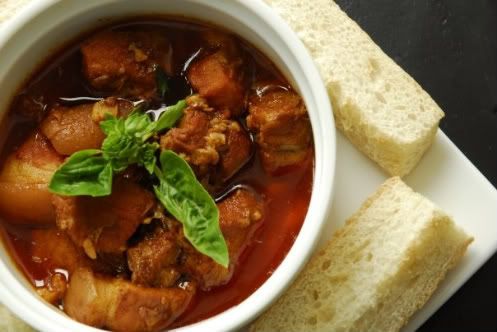 Slow-cooked ragout of pork marinated in olive oil, paprika and garlic
Basilio's Restaurant is the namesake of its Executive Chef, Pablo Basilio (PV) Valdez, your Neighborhood Chef.  Chef PV is a culinary professional with advanced studies in Culinary Arts Manila and a special training at the Greystone Culinary Institute of America in Napa Valley, California.
Stuffed Southern Fried Chicken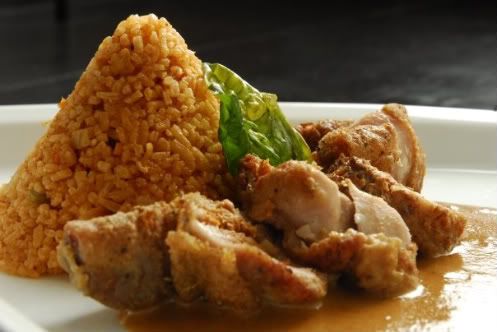 Stuffed with homemade chorizo and giblet gravy, served with tomato rice
Basilio's latest offering is their lunch-time specials which have been carefully crafted so they are delicious, healthy and comfortably-priced.  Healthy means fresh in season ingredients.
Caesar Salad (Basilio's dressing in shot glass) Grilled Chicken Tomato Rice and Cheese Fonduta
Seafood Chowder with Grilled Dory Fish, Tomato Rice and Cheese Fonduta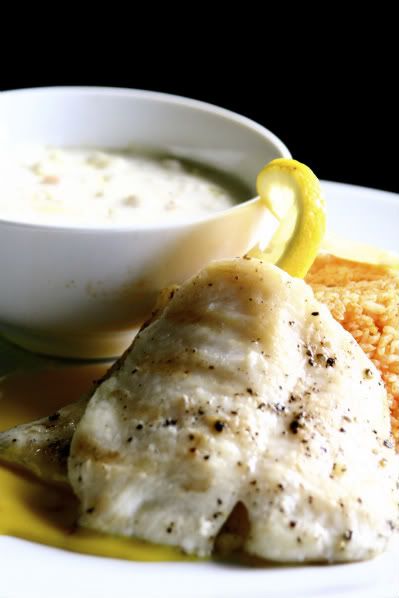 Welcome to Basilio's
The restaurant setting is sleek and modern, yet comfortable and relaxed, made homey by the fragrance of freshly brewing coffee – Illy Coffee, no less. Here, service is as much a prime consideration as the quality of the cuisine. Basilio's is positioned as a niche restaurant where "Contemporary Comfort Food" is an exuberant interpretation of feel-good food.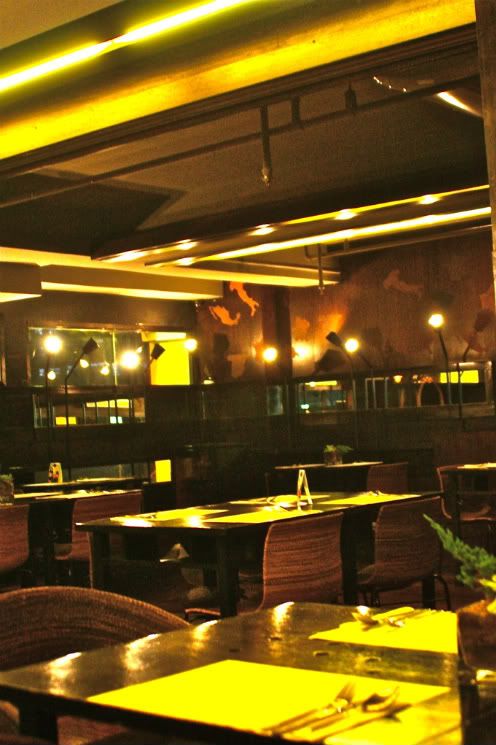 Basilio's is located at the Bonifacio Global City, a state-of-the-art and fast growing premier business and residential community for the upscale market.  It's very near the Makati Central Business District.  For inquiries or reservations, please feel free to contact us.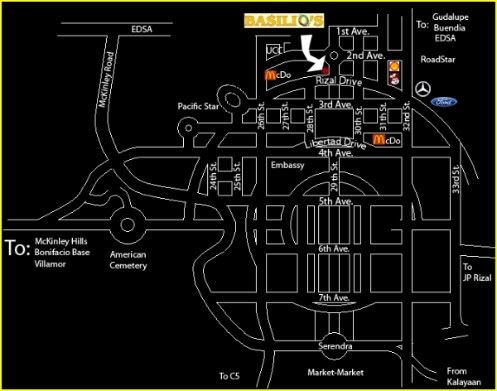 Exclusive to Hit A Bargain! Facebook members (click here to sign up), BASILIO'S Restaurant is giving away 30 Lunch Meal Specials for FREE!!!
LUNCH  MEAL SPECIAL
Caesar Salad
(Mixed greens w/ crisped bacon bits herbed croutons parmesan and Basilio's Caesar dressing)
or
Seafood Chowder
(Creamy New England-Style chowder w/ the tang of smoked fish)

&
Grilled Chicken Breast Fillet with Cheese fonduta and tomato rice
or
Grilled Cream of Dory with Cheese fonduta and tomato rice
HOW TO JOIN:  Tell us why do you think BASILIO'S Restaurant's Lunch Meal Specials stand out from the crowd. You may submit multiple entries (by leaving comment/s below with a working email address), but, may only win once.
Entry requirements:
As part of the requirements in winning the lunch meal special, you must be a Hit A Bargain! Facebook member (click here to sign up)

Share this freebie promo to at least 20 friends (more is better, of course!). Click the "Share This" button below at the end of this page and choose your email host or Facebook, etc. to send this promo to your friends. The more medium (forums, social networking sites, etc.) you use to share this promo, the bigger chances of winning! Make sure to copy furnish: hitabargain@gmail.com.

Email the following information to hitabargain@gmail.com:

Full Name
Birthday & Age
Email Address
Delivery Address
Contact Numbers
Occupation / Company
URL links where you shared BASILIO'S Restaurant freebie promo of Hit A Bargain!  (Please make sure that your shares are on public mode and can be viewed by anyone).

This contest is open to all 18 years and above.

Only entries that fulfill the above-mentioned requirements will be accepted.
Deadline of entries is extended to June 15, 2010. Official announcement of winners will be on or before June 30, 2010.
Tip:  Entries are 50% judged on the quality and quantity of shares made.  So, keep on SHARING the promo by clicking the "Share This" button below (or post in famous forums, social networking sites, etc. with photo and link: http://hitabargain.com/2010/04/16/basilios-exquisite-lunch-specials-for-free/) for more chances of winning!
CLICK HERE for the list of winners!!!